CP Bazil Mugisha, the Ag. Director Traffic and Road Safety said on Monday that the Uganda Police would be reinstating the "Fika Salama" operation on all major highways in the country ahead of the festive season.
This comes after a directive from the minister of works and transport, Gen. Edward Katumba Wamala, as one of the measures to help contain fatalities of the many road users during this period. Katumba argued that given the current political atmosphere, it would be prudent to address the numbers moving to their holiday season villages.
Operation Fika Salama was an initiative introduced in 2016 to reduce accidents, pioneered in 2016 by the Uganda National Road Authority (UNRA) and enforced by the Traffic Police and other security organs, in conjunction with the ministry works and transport.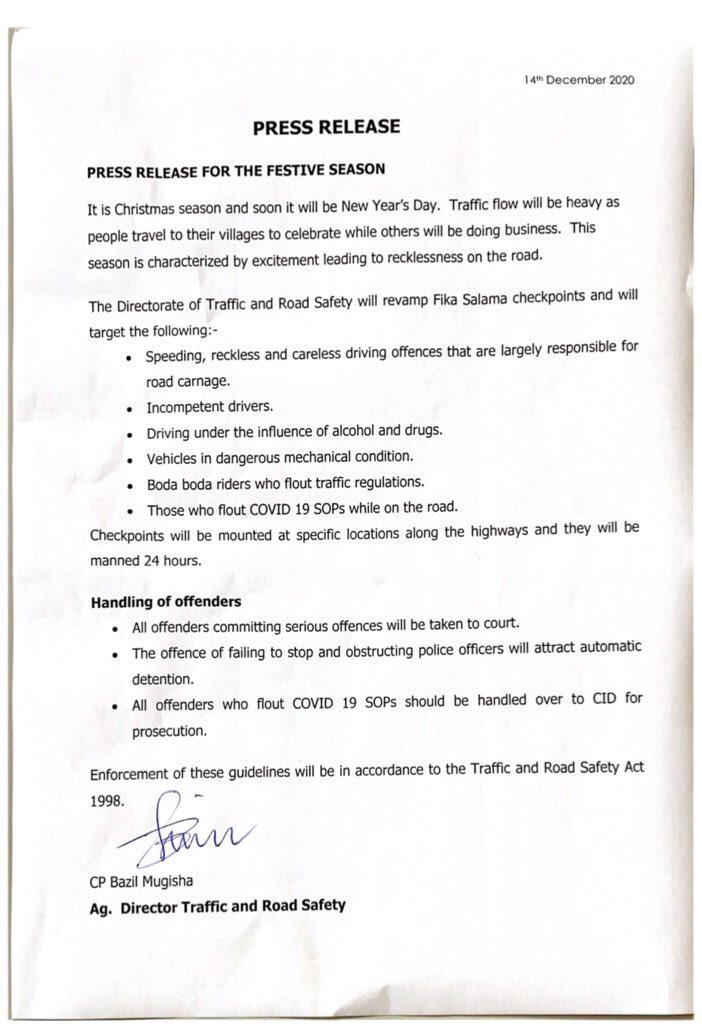 According to CP Bazil, the police will be on the lookout for speeding, reckless, and careless driving offenses that threaten human life. They will also be targeting illegal and incompetent drivers, driving under the influence of alcohol and other drugs, and vehicles in terrible mechanical conditions.
"It is Christmas season, and soon it will be the new year's day. Traffic flow will be heavy as people travel to their villages to celebrate while others will be doing business," he said.
The checkpoints set up by Police will be operational 24 hours, and all offenders, as arrested by Police, will be duly presented in the courts of law. Offenders who attempt to avoid the stoppages will be subject to detention.
Boda Boda riders are also susceptible to the new Fika Salama operation, and those found disregarding the COVID-19 SOPs will be arrested and charged, according to CP Mugisha. "All offenders who flout Covid-19 SOPs should be handed over to CID for prosecution," he said