The Ministry Of Health has written to the Uganda Communications Commission requesting that the body intercedes and interrupts the airplay of the popular song "Tumbiza Sound" from any media.
In a letter written to the Executive Director of the UCC, the ministry argues that the song by EeZzy is grossly misinforming and misguiding Ugandans in various audiences creating complacency as regards the control and spread of the coronavirus.
The ministry of health says they are working diligently with the Uganda Communications Commission and the Ministry of Information, Communication, and Technology and National Guidance to convey the relevant message in the fight against COVID19.
This, therefore, is to request you to ban the airing of the song on all mass media channels so the public is not misled.

Dr Henry G Mwebesa, Director General of Health Services.
Furthermore, I wish to request that going forward, all edutainment with health information/messages on COVID19 passed on the different media houses are harmonized with the Ministry Of Health before they are aired," said Dr. Henry G Mwebesa, the Director-General of Health Services.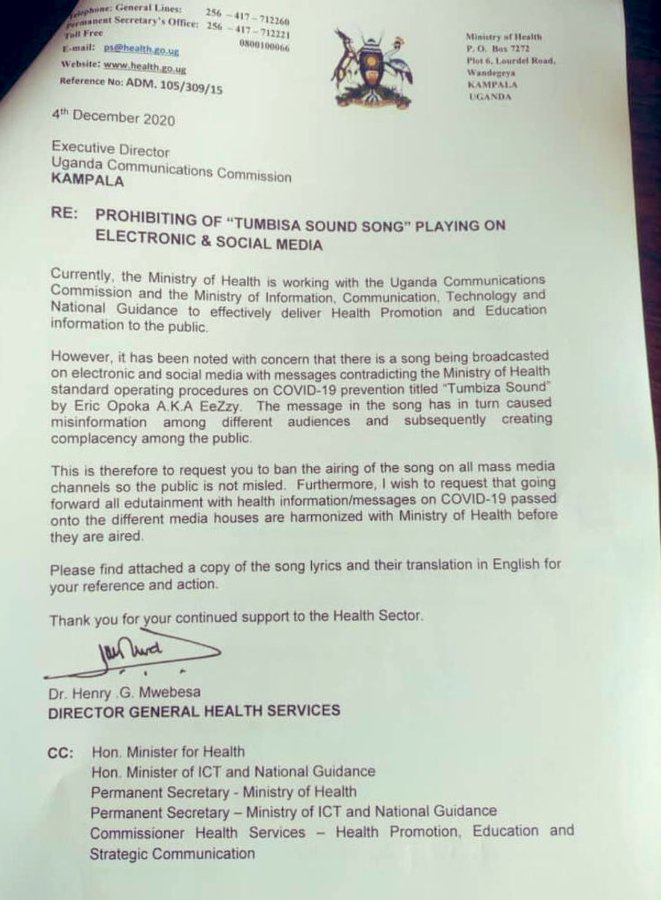 The song has accrued over 500,000 views on YouTube and is a mainstay on TV and radio. Furthermore, it has since seen over 10 dance choreography videos uploaded on YouTube, a local remix with rapper Feffe Bussi and an urban sound remix released this week.